The Mead Testing field emission SEM can provide both high resolution images and precise data on the composition of your samples. Our Hitachi S4000 machine is equipped with a thin window energy dispersive X-ray analyser, so elements from carbon upwards in the periodic table may be analysed.
This specialised service is normally non-destructive and is ideal for metals, ceramics, polymers, glasses and electronic components. Our broad experience and expertise enables us to offer you an efficient and cost-effective means of meeting a wide range of analytical requirements.
Samples up to 15cm x 6cm x 5cm can be examined and features ranging in size from 0.1 microns (mag x300,000) to 1cm can be analysed.
We have both carbon and gold coaters for a wide range of applications and also a barrel plasma etcher using mixed gases for organics or glass passivation removal. Our acid jet etcher allows decapsulation of plastic integrated circuits.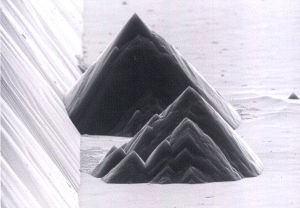 Residues left on a silicon wafer after wet chemical etching viewed at X 10,000 magnification